Danish wind power company Vestas presented a new platform on Thursday it says will enable customers to produce cheaper energy through turbines tailored for different wind conditions and locations.
The move is a response to a more competitive industry that is moving away from governments guaranteeing utilities generous fixed subsidized tariffs for power towards an auction-based system that favors those who can bid at the lowest price.
"This is a more market-oriented approach," Chief Executive Anders Runevad told Reuters in an interview. "There is a different logic now that we get into an auction market.
EnVentus, the first new Vestas platform since 2011, will offer customers more flexibility than its existing 2 megawatt (MW) and 4 MW platforms, Vestas said. The company is also launching new V150-5.6 MW and V162-5.6 MW turbines to run on the EnVentus platform.
New EnVentus-based turbines will be built from standardized modules that fit other turbines rather than from parts that only fit one platform. That will make manufacturing, servicing and upgrading the turbines simpler, Vestas said.
Vestas, whose main rivals are General Electric and Siemens Gamesa, last month became the first to install 100 gigawatts of capacity globally.
The wind power industry has been grappling with reduced subsidies in recent years and governments seeking more competitive contract tenders, increasing pressure on suppliers, turbine makers and wind farm developers to reduce costs.
"We've gone from being a niche industry dependent on subsidy feed-in tariffs to an industry that can compete on more normal market conditions. And that ripples through the chain," Runevad said.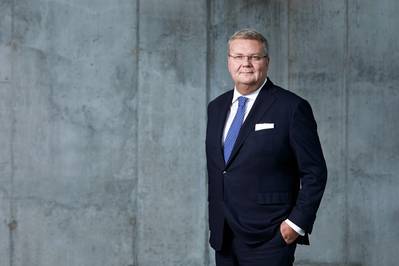 Anders Runevad, Vestas President and CEO (Photo: Vestas)
The EnVentus platform will lower the cost of energy produced throughout the lifespan of the turbine by as much as 30 percent, Vestas said.
Asked whether the platform would allow Vestas to increase prices, Runevad said: "That remains to be seen. We have to wait and see what the competition is doing."
Vestas will publish 2018 results on Feb. 7.
(Reporting by Jacob Gronholt-Pedersen; Editing by David Goodman and Mark Potter)