Taiwan's Formosa 2 Offshore Wind Project Officially Inaugurated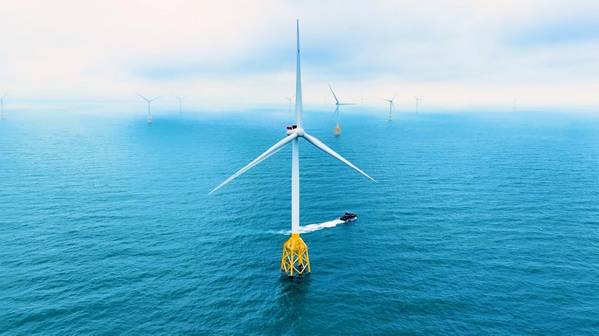 Construction of the Formosa 2 offshore wind project in Taiwan has been completed, with the milestone marked by an inauguration ceremony at the Waipu Fishing Port in Miaoli to celebrate the successful construction of the offshore wind farm.
With all 47 wind turbine generators (WTGs) installed earlier this year and connected to the grid in March, Formosa 2 is stepping into the operational stage and is fully equipped to supply 376MW of electricity.
The Formosa 2 offshore wind project is a joint development project by JERA (49%), Macquarie Asset Management's Green Investment Group (26%), and Synera Renewable Energy (25%)
According to the developers, despite difficult and challenging weather conditions in winter, Formosa 2 successfully installed all 47 x 8MW Siemens Gamesa wind turbine generators on January 31.
By March, all WTGs were commissioned to the grid. Last month, Formosa 2 generated its full capacity of 376MW of electricity for the first time since it was built.
Formosa 2 has been officially inaugurated after all testing work has been settled.
Located 4 to 10 kilometers off the coast of Zhunan Township, Miaoli County, the Formosa 2 wind farm has an installed capacity of 376MW and will generate enough electricity to power approximately 380,000 households, reducing carbon emissions by 700,000 tons per year.