MODEC Teams Up with Terra Drone for FPSO Inspections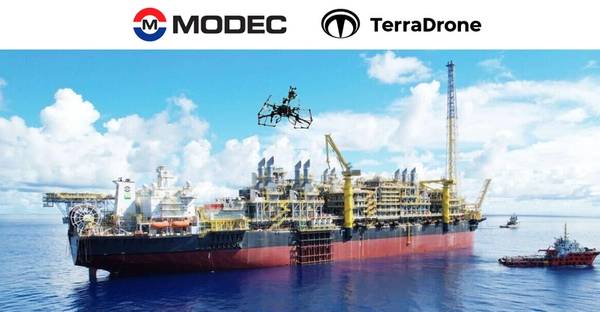 FPSO leasing specialist firm MODEC and drone firm Terra Drone have signed a Memorandum of Understanding for the technical development of inspection drones for floating production, storage, and offloading systems.
"MODEC's FPSOs ensure their integrity through regular maintenance and inspections in order to continue stable oil and gas production for extended periods exceeding 20 years. However, manual inspections at heights and in confined spaces on structures pose significant occupational safety and health concerns. Additionally, prolonged inspections in large-scale offshore platforms have become common challenges within the industry," MODEC said.
To address these issues, MODEC said it would combine the expertise in FPSO design and operation with Terra Drone's patented Terra UT Drone, "which has garnered acclaim for its precision and effectiveness in inspections with ultrasonic testing capabilities for non-destructive testing."
"This partnership aims to tackle common problems across the offshore oil and gas industry. By developing drone technology that enhances safety, labor-saving, and efficiency in inspection operations, MODEC and Terra Drone will contribute to the sustainable operation of offshore structures from environmental, economic, and social perspectives," MODEC said.