MISC to Supply FSU for Petronas LNG Regasification Terminal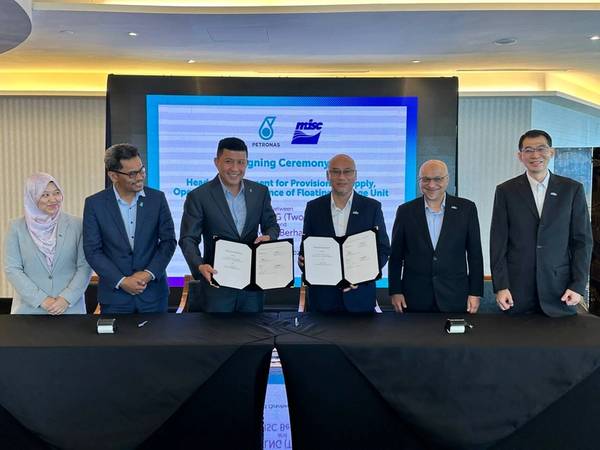 Malaysia's MISC has entered into a binding Heads of Agreement (HOA) with Pengerang LNG (Two) Sdn. Bhd. (PLNG2SB), a subsidiary of PETRONAS Gas Berhad (PGB), for the supply, operation, and maintenance of a Liquefied Natural Gas (LNG) Floating Storage Unit (FSU)
intended to be deployed at the PETRONAS LNG Regasification Terminal Pengerang (RGTP) in Johor.
"This project is a continuation of the collaboration between MISC and PGB in 2012 that brought about the successful deployment of FSU Tenaga Satu and FSU Tenaga Empat at the LNG Regasification Terminal Sungai Udang, Melaka," MISC said.
According to MISC, at the core of this latest partnership is the conversion of MISC's LNG Carrier, Puteri Delima Satu, into an FSU dedicated to this project. The FSU is designed to receive shore power to reduce emissions while improving operational efficiency and is set to become commercially operational by the second quarter of 2025 under a 20-year contract term, with provisions for extension based on mutual agreement.
Hazrin Hasan, MISC's Vice President of Gas Assets & Solutions (GAS) said:"By repurposing and redeploying our existing
assets and drawing on our experience from operating FSU Tenaga Satu and FSU Tenaga Empat, we are not only creating a revenue-generating opportunity but also driving better shareholder returns. We thank PGB and PLNG2SB for their trust and we remain committed together with
PETRONAS in supporting the national agenda for energy transition in Malaysia."