Beach Energy Boosts Gas Supply to Australian East Coast Market with Two Otway Basin Wells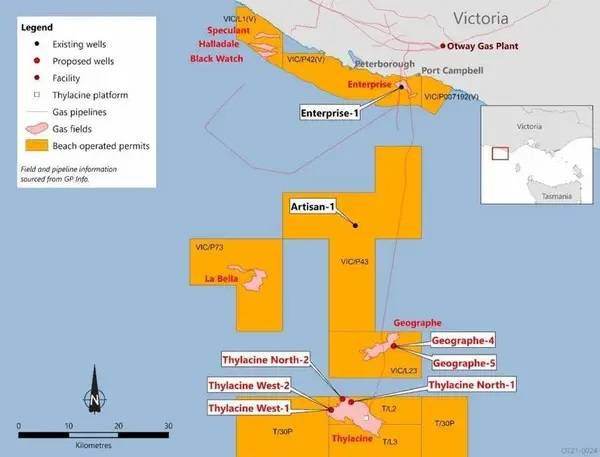 Australian oil and gas company Beach Energy said Wednesday it had connected the offshore Otway Basin Thylacine North 1 and 2 development wells to the Otway Gas Plant and is now delivering additional gas into the Australian East Coast gas market.
"Four of the six Otway development wells that were drilled as part of the major drilling campaign in FY22 are now connected and have increased well deliverability for the Otway Gas Plant. Beach is currently reviewing its preferred approach to connect the final two wells, which will require either the repair or replacement of a flowline. An update will be provided following completion of this review." Beach Energy said.
Beach Energy Chief Executive Officer Morné Engelbrecht said: "Delivering gas from the Thylacine North wells represents an important step for the Otway Basin project and allows us to deliver much-needed gas to the East Coast gas market.
"Delivery of this new gas to homes and businesses was underpinned by Beach's first extended offshore drilling campaign, completed in July 2022. The seven-well program was the largest in the Otway Basin's history and delivered one new gas discovery and six development wells," Engelbrecht said.
Thylacine gas field is located in the Otway Basin, Victoria, Australia.
Beach Energy's operations in the Otway Basin involve natural gas production from the Halladale and Speculant natural gas fields, as well as the Geographe and Thylacine gas fields, with natural gas being piped and processed at the Otway Gas Plant near Port Campbell.
Once processed, the natural gas is sold to retailers who use it for domestic or commercial consumption in the East Coast gas market.