South Korea's Doosan Enerbility and Siemens Gamesa in Offshore Wind Collab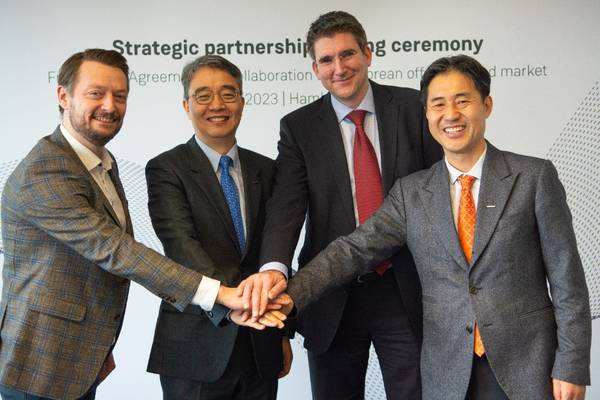 Offshore wind turbine maker Siemens Gamesa and South Korea's Doosan Enerbility, formerly known as Doosan Heavy Industries, have signed an agreement to collaborate on offshore wind projects in South Korea.
Siemens Gamesa offshore wind business CEO Marc Becker and Doosan Energility Power Service Business Group CEO Hongook Park signed the partnership framework agreement in Hamburg.
"The agreement follows successful exploration of potential cooperation made possible by a memorandum of understanding signed in June 2022. This next step lays the foundation for strong local content offerings in the South Korean offshore wind market in the future. The implementation of the partnership scope is subject to successful offshore wind power orders in the South Korean market," Siemens Gamesa said Monday.
The framework agreement covers three areas for knowledge exchange on technology in which the two companies will collaborate in South Korea.
Doosan will assemble Siemens Gamesa's offshore wind turbine nacelles in a Doosan facility currently in the design phase, assemble turbines for Siemens Gamesa machines in staging harbors, and conduct the offshore construction of projects using Siemens Gamesa machine. It will also perform offshore service on selected orders involving Siemens Gamesa machines.
"The alliance between the companies bolsters Korea's burgeoning offshore wind industry. Among the benefits are efficient and environmentally-conscious local assembly and local job creation to serve the South Korean offshore wind market," Siemens Games said.