#Oi2020: Drill Bit Rescue from 30,000 ft.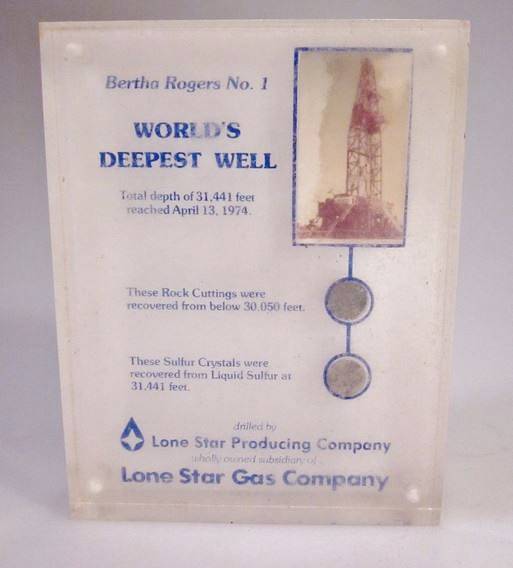 Drilling wells more than three miles deep in the late 1960s was something that GHK Company and partner Lone Star Producing Company believed would product massive amounts of natural gas. The two companies that began this project discovered in 1974 that South of Burns Flat in Washita County their Bertha Rogers No. 1 rig would reach almost six miles deep, following a deep-sea fishing trip. Averaging 60 feet per day, the rig (at that time) was destined to become the world's deepest well.
However, following 16 months of drilling, the rotary rig drill stem sheared from the stem, causing more than 4,100 feet of pipe (and the drill bit) to become stuck. When it was thought that all would become lost on this record-breaking rig, GHK contacted a Houston fishing company that summoned Mack Ponder to perform the rescue—he retrieved the pipe sections and drill bit from 30,019 feet deep. Drilling was then resumed at the site (about 12 miles west of Cordell)—with the well setting a world record at the time – and remains one of the deepest ever drilled.
Marine Technology Reporter has been commissioned to publish the Official "Oceanology International 50th Anniversary Edition" which will distribute with the MARCH 2020 edition of MTR. For information on advertising in this edition, contact Rob Howard @ [email protected], t: +1 561-732-4368; or Mike Kozlowski @ [email protected], +1-561-733-2477.