"We wanted to take a fresh look at the market, to identify opportunities both in the production and regassification of LNG" is how McCaul, founder of IMA, best describes his team's 12-month effort to study and report on the industry. The culmination is a 150+ page study published by World Energy Reports, as well as a live 24/7/365 database of information that is available for purchase. "The market for the last three years has been dismal, but demand is rising and our projections show that in 2022-2023 the LNG market will be in a deficit. We're starting to see a lot more investment in LNG, but if you want to be in you have to start now."
Project Evaluation
The IMA study is the first professional effort to systematically look at the universe of FLNG and FSRU projects in the planning stage – and categorize the likelihood of each making the development investment hurdle. Many FLNG and FSRU projects are planned – but only some will ultimately will move forward to development. For example, IMA examines 29 floating liquefaction projects in the planning stage, and of these 29 McCaul estimates that three projects are 'strong' (a 75% chance of moving forward); eight or nine are 'fair' (50%) while the remainder are 'weak' (30% or less). The probability rating is based on how the project scores in terms of drivers of project health and stockholder overlay considerations.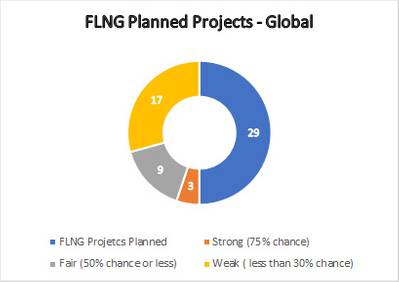 Source: Floating Liquefaction And Regasification Report: 2019 Annual Outlook -- www.worldenergyreports.com>
While the IMA report analyzes a number of economic and stakeholder considerations to arrive a its projections, McCaul said that government support is central to nearly every project. "If the government doesn't support it, that's a project killer."
Brighter Prospects in Regassification
McCaul and his team found that the regassification end of the business, or FSRUs, offer better business prospects moving forward. In total the IMA report identified 47 FSRU terminal projects in the planning stage with about half of them classified as 'strong' with the other half falling in the 'fair' or 'weak' categories.
Online FLNG/FSRU Database
IMA does more than just provide a snapshot of the floating liquefaction and regasification sector. Its new online fully searchable LNG database updates all FLNG and FSRU project information on a 24/7 basis. As IMA receives new information about projects from its network of industry contacts, the database is immediately updated to reflect the latest situation.
With access to the online database, users can access any FLNG project or FSRU terminal – in operation, under construction and planned – and immediately find the latest information on project status, along with any changes in timing and probability of the project investment decision. Contacts are also provided for follow up with key players.
Database users are able to select any combination of data about projects and export the data to excel for evaluation – or use the sophisticated sorting and graphics capability provided with the database for making comparisons and benchmarking. The search capability is user friendly and our IT staff is available to assist with any issues or questions at any time.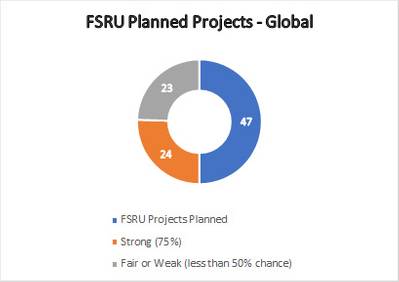 Source: Floating Liquefaction And Regasification Report: 2019 Annual Outlook -- www.worldenergyreports.com
Meet the Team
The FLNG/FSRU study and database has been prepared by a small team of seasoned industry professionals with many years of hands-on experience in the offshore sector. The team's direct experience in planning and executing FLNG and FSRU projects provides the foundation for a "reality check" evaluation of the likelihood that projects in the planning queue will go forward to development.
Jim McCaul, founder of IMA and co-founder of WER, is the principal analyst in the study. He has prepared more than 60 reports on the floating production business -- and over the past 30+ years has been engaged as adviser by numerous clients in the offshore oil and gas sector. Jim has been advisor on planned FSRU projects in Ghana, Jamaica, India, elsewhere.
George Tilley, senior researcher, is a 30+ year veteran of the international oil and gas industry having worked in Brazil, Kazakhstan, India and Tanzania for BG Group. In his last assignment in Tanzania George was responsible for the commercial arrangements with partners and government for the proposed LNG project. Our other senior analyst in the study has 30+ years of experience as offshore field development engineer in offshore oil and gas projects and has been directly involved with planning FLNG projects in Tanzania, Cameroon, Congo-Brazzaville, Brazil and elsewhere.
Check out the Report
•VISIT: https://flng.worldenergyreports.com/reports/
•EMAIL: vertucci@worldenergyreports.com
•CALL: Jean Vertucci @ +1-212-477-6700